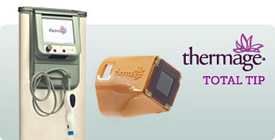 Do you desire to look younger? Would you prefer to avoid cosmetic surgery? If so, there is a non-surgical procedure that could take years off of your face. It's called Thermage and it revives the collagen under your skin to lift and plump skin cells, which can reverse the signs of aging skin. There are major differences between Thermage and a traditional facelift, and those differences are really advantages. If you're looking for a facility that offers Thermage with a licensed physician in Greensboro, NC, Rejuvenation MD is the place to go.
Benefits of Thermage Over Surgical Facelifts
Save money. Thermage is an outpatient procedure—no hospital stay or expensive plastic surgery involved. No recovery time means you avoid missing work.
Save time. Instead of hours of surgery, the Thermage procedure only takes 45 minutes. You are awake the entire time and will most likely be ready to return to work and daily life immediately afterward.
Avoid pain. Thermage involves heating and cooling the skin intermittently. If you feel a slight sense of discomfort, adjustments can be made to alleviate this feeling during the procedure. This is a definite advantage over surgery where an incision is made in your skin which requires recovery and pain management afterward for an uncertain length of time.
Get faster results. You will notice positive changes in your face in as little as one day and you will continue to see improvements for up to 6 months following the procedure.
Results are long lasting. The results can last for years. While the length of time differs for each patient, you can expect to be satisfied with the look and feel of your face for much longer than other more temporary procedures and products.
Look more natural. You've surely seen celebrities who have obviously had facelifts and often the results look unnatural. Thermage gives you natural-looking results because your skin is not cut or pulled back. Your skin cells simply become revived and act as they did when you were younger, likely taking years off your appearance.
Works for the body as well. Arms, stomach, and thighs can also be treated with Thermage in order to tighten and lift skin in these areas.
Get Younger-Looking Skin and Save with Thermage in Greensboro, NC, at Rejuvenation MD
Defy the effects of aging without surgery with the Thermage procedure. Rejuvenation MD offers a relaxing environment that feels more comfortable than a typical medical facility. Get a facelift that does not involve surgery and a hospital stay, but simply an hour of your day in a relaxing atmosphere. Why visit Rejuvenation MD for this procedure? Because Thermage in Greensboro, NC, as well as the Asheboro branch, are the only facilities that offer the Total Tip technology, which is currently the most advanced non-invasive technology for the treatment of wrinkles. Call today to schedule your initial consultation: (336)494-1461.