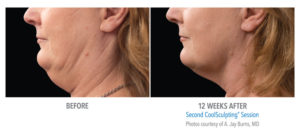 *Individual results may vary
It doesn't matter how much you diet and work out, some pounds just won't come off. You still have saddlebags, a muffin top or those not-so-lovely love handles. It's called "stubborn fat" for a reason. CoolSculpting can make stubborn fat melt, or should we say freeze. CoolSculpting was designed by Zeltiq Aesthetics in California and is the only FDA approved procedure for body sculpting the flanks, stomach fat and thighs. This technology is a non-invasive procedure that uses a safe targeted cooling system to freeze fat cells, reducing them. Below are the top five reasons you should consider CoolSculpting.
You don't want surgery. Well, who wants surgery? Nobody! And you don't have to go under the knife. CoolSculpting freezes fat cells, crystallizing them. The fat cells reduce and then are processed from the body naturally. No incision, surgical scars, or even needles.
You want targeted fat loss. Natural weight loss can include losing muscle cells and water weight. Some procedures can also hurt healthy cells during the process. CoolSculpting targets only the fat cells, keeping the rest of your cells intact and healthy.
You hate waiting. Why does weight loss happen at the speed of a snail? What if a procedure could take possilby less than 35 minutes? Maybe in the time it takes for you to go on your lunch break or visit the gym, you could be shedding pounds. And the recovery time may only be minuscule. You can possibly go about your normal day after your appointment. So you can possibly have it done on your lunch break.
You don't want to take pills. CoolSculpting, together with a healthy lifestyle, can help you achieve your long term results. No stimulants or supplements needed.
You want lasting results. That's one of the areas where this technology may be able to shine. You can possibly still be in the process of losing weight months after your treatment. That's right, maybe months.

*Individual results may vary
These aren't all of the reasons why CoolSculpting is a fantastic option to treat fat cells. It's important for you to speak with a doctor to decide if this process is an option for you. Rejuvenation MD offers consultations by appointment. Schedule yours today by calling (336) 297-1822 for the Greensboro NC location or (336) 633-4034 for the Asheboro NC location. Also, take a look at more CoolSculpting before and after photos.