*Individual results may vary
Having children is such a great gift, right? I've been told that over and over again. I love my children, I do. But I do not love what they did to my body. After giving birth to my second and last child and losing over 100 pounds, my stomach looks like a saggy road map. If I hear "be proud of your mommy scars" one more time I may scream. Stretch marks and loose skin isn't the best look for a single mother in her late twenties.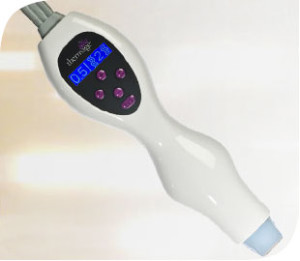 I want the stomach I had at 21 back, but I don't want to go through invasive surgery. No matter how many sit ups and planks I do, I can't tighten skin. It's impossible. So, I've been looking into how to tighten loose skin with non-invasive procedures. I've found a few options to tone my stomach but I'm mostly interested in Thermage.
Thermage is non-invasive, exactly what I want. I have two kids and a full-time career, I can't afford a long downtime. This procedure is safe and helps to tighten and contour your skin. No injections. No surgery. And it possibly only requires one treatment, maybe with the results peaking at around month six.
But, how does Thermage work? How can it help give me a toned tummy? It's actually pretty neat. A device is used that infuses a radio frequency once on your skin. The frequency heats up collagen while the skin surface is cooled. This can cause the skin to lift rapidy. It can keep working several months later too without more treatments. The benefits can possibly last years.
But, does it really work? I hear of miracle treatments all the time and think, yeah right! According to The Daily Mail (http://www.dailymail.co.uk/femail/article-2297512/The-face-ironing-treatment-helps-Gwyneth-Paltrow-wrinkles-bay.html) many celebrities are turning to non-invasive treatments to keep their skin tight and appearance youthful. I'm a huge fan of Gwyneth Paltrow so once I found out that she uses Thermage to keep her face from sagging with age, I decided that maybe I should give it a try. Not only is Gwyneth a fan of this treatment but so are Amanda Holden and Linda Evangelista. I've found that many celebrities are turning toward non-invasive treatments since face lifts are pretty obvious.
I don't do pain very well either so Thermage seems like the way to go. I've found that most people only experience a heating and cooling sensation with no actual pain. I'm still nervous about undergoing the procedure but I'm going to put my big girl panties on and go through with it. I am not getting any younger and being embarrassed of my stomach is only holding me back. Bikini weather is right around the corner and since results peak at 6 months, the sooner the better. Wish me luck!*
*Individual results will vary
Guest Author: Megan Russell
– Megan Russell is a Mother of two young children and local Blogger. She writes about many health and beauty issues that are of interest to women and especially mothers.