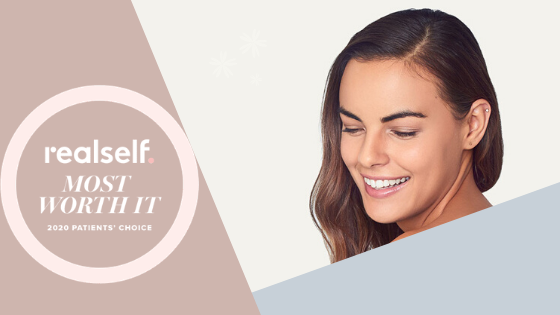 It's a new year, which means RealSelf has announced it's "Most Worth It" treatments for the 2020 year!
Rejuvenation MD is thrilled to offer several of RealSelf's Most Worth It treatments in our office, such as Co2 Laser and HydraFacial MD! How does RealSelf come up with this rating, you might ask?
RealSelf's Worth It Rating is based on consumer satisfaction scores based on the reviews they post on Reaself, who, after having a treatment, rate the procedure as "Worth It" or "Not Worth It."
To be recognized as the 2020 Most Worth It treatment, it must meet the minimum review requirement of at least 50 reviews between January 1st, 2019, and December 31st, 2019, and have earned a collective Worth It Rating of 90% or higher during this period.
Most Worth It Non-Surgical Treatments!
HydraFacial MD – Voted 98% Worth It!
We aren't shocked that HydraFacial MD made it on the list of "Most Worth It" treatments! This treatment is a staple at Rejuvenation MD, and always leaves our patients' skin glowing for weeks! The HydraFacial treatment is an entirely customizable experience, from the specialized hydro-tips to addressing your specific skin concerns with our super serum boosters. The procedure consists of three steps: Cleanse, Extract, and Protect, leaving your skin visibly glowing for weeks after the treatment!
Dysport/Botox – Voted 97% Worth It!
Ditch the frown lines and look like a more refreshed version of you with Dysport/Botox. We believe in educating our patients not on Dysport/Botox when they see wrinkles, but preventative Dysport treatments as well. When we speak about preventative Dysport, we are talking about treating wrinkles before they appear, with the idea that if you treat it now, in the future, you will have very superficial wrinkles or none at all. Patients can typically expect Dysport/Botox to last anywhere from 3-4 months, and some patients start noticing a difference in as little to 2-3 days post treatment!
Lip Augmentation + Restoration – Voted 96% Worth It!
At Rejuvenation MD, we practice a conservative, natural-looking aesthetic. Dr. Chaudhary's goal is for you to look like the best version of yourself instead of having cookie-cutter filler work. She does a lip assessment with specially designed calipers to determine what lip shape works best for your facial structure and the shape of your natural lip. Lip Filler can be used to increase the volume of the lips, restore the structure, or even to hydrate the lips!
Non-Surgical Rhinoplasty – Voted 95% Worth It!
This procedure will temporarily change the shape of your nose with injections of filler. It can raise a flat bridge or drooping tip, or making the nose look straighter and more symmetrical—all without anesthesia, downtime, or surgery! When you are having a non-surgical Rhinoplasty at Rejuvenation MD, the treatment takes about twenty minutes in our office.
IPL PhotoFacial – Voted 94% Worth It!
If you suffer from brown spots, rosacea, sun spots, or broken capillaries, this is the treatment for you! IPL technology works by delivering an arc of light that penetrates all levels of the skin without harming the surface – meaning there is little to no downtime with this treatment! The energy from the laser stimulates collagen and elastin production, which may help improve the appearance of fine lines and shrink enlarged pores.
Laser Hair Removal – Voted 92% Worth It!
Breaking up with your razor is something a lot of us dream of as we struggle with razor burn and missed areas of hair. Laser Hair Removal is a popular treatment at Rejuvenation MD! Laser Hair Removal involves using light energy to destroy hair follicles- usually on the legs, underarms, and face – with the goal of reducing hair growth. The FDA says that laser hair removal reduced the amount of hair you have by about 70%. While this treatment may not get rid of the hair permanently, the hair that may grow back is usually much finer and less noticeable. It's important to note that everyone's body is different, so there's no set rule on how many sessions you'll need and when you'll need them. In our practice, patients have six to eight treatments staggered every four to eight weeks, depending on the area.
Co2 Fractional Laser – Voted 90% Worth It!
At Rejuvenation MD, we have invested in the latest technology in Co2 Lasers! Co2 Resurfacing treats patients who have discoloration, sun damage, wrinkles, age spots, and scarring (acne scars and stretch marks included).
So how does the Co2 Laser work? The Co2 laser works by directing shot, concentrated beans of laser that vaporize skin by targeting water molecules. The laser will remove the damaged skin in an exact, SAFE manner, causing the regrowth of younger-looking superficial skin of the epidermis. All while simultaneously stimulating collagen and elastin production in the deeper dermal layer of the skin – minimizing deep-set wrinkles ance scars and tightening saggy skin.
In our office, we use a fractional laser in our practice vs. a fully ablative laser.
What's the difference you may be wondering?
Co2 Fractional Laser -This laser uses a newer technology that targets only the part of the skin's surface, focusing the laser beam in a series of patterned dots similar to a dot matrix printer. Impacting some parts of the skin and leaving others intact helps speed up healing time and lowers the risk of complications.
VS
Co2 Fully Ablative Laser This laser strips away all of the superficial skin while heating the deeper dermal layer to produce collagen. The results can be dramatic, but the treatment may require anesthesia and sedation, and may also involve a significant downtime (think weeks to MONTHS)
We are so proud to offer such a wide range of 2020's Most Worth It Treatments! Be sure to give us a call to set up a complimentary consultation with Dr. Chaudhary to see if any of these treatments would be beneficial to you on your Aesthetic Journey! To schedule your complimentary consultation with Dr. Chaudhary, click the button below!