Kybella – The next big thing!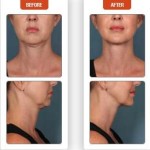 *Individual results may vary
Until recently, surgery with anesthesia was the best option for anyone looking to achieve the Holy Grail of lower-face #goals: a sharper, more chiseled chin. Enter a game-changing new injectable solution called Kybella. The first injectable substance that the FDA has approved to treat a double chin.  Kybella is designed to treat stubborn under-the-chin fat.
Kybella is deoxycholic acid, a fat-absorbing substance found in our bodies naturally. When injected, it reduces fat cells under the chin, possibly leaving the skin substantially tighter and the jaw more contoured.