Chemical Peels
As we age, effects of sun exposure as well as acne and pollutants can damage our skin causing us to look older than we are. Chemical peels are used to treat such skin damage therefore possibly restoring a more youthful appearance to wrinkled, sun-damaged, unevenly pigmented and blotchy skin. Rejuvenation MD offer several different types of chemical peels to suit your individual need.
What is a Chemical Peel?
Chemicals are applied topically that help to rejuvenate the skin surface by creating a controlled reduction of the old skin cells, allowing new layers to become exposed possibly creating a smoother texture and fresh appearance.
Chemical peels are also great for treating problems like melasma. Melasma is usually brought on by hormonal changed common during pregnancy resulting in dark patched on the neck and face. Chemical peels work to lighten dark pigmentation as well as treat dead skin. 
Does it hurt?
During the chemical peel, a burning sensation may gradually develop soon after the solution is applied to the skin. A cold compress or fan may be used to alleviate this. In some cases, a more intense burning followed by a tightening sensation can be present. This sensation can last up to 10 minutes. In this instance, a fan or cold compress may help alleviate most of the discomfort.
Different Types of Chemical Peels
Light – This peel contains alpha hydroxyl acids (AHA), commonly found in fruit or lactic acids. This is the mildest form of chemical peel, and many people decided to go with this option due to its minimal downtime and skin peeling. A light chemical peel only treats the outer layers of the skin.
Medium- If the light peel isn't matching up to your needs, opt for a medium peel instead. Treating more skin layers may be the option for you if you have moderate discoloration, sun damage or wrinkles. To ensure your health, it is not uncommon for your cosmetic professional to prescribe a course of antibiotics before your procedure. 
Deep – If you suffer from significant skin care concerns such as severe scars, extensive discoloration or coarse skin, a deep chemical peel is right for you. This peel penetrates even further down into the layers of the skin. 
Rejuvenation MD offers several different types of chemical peels including:
The Perfect Derma Peel
Enlighten RX Peel
Cosmelan Peel
The Perfect Derma™ Peel is safe, effective medium depth peel for All Skin Types & Ethnicities.  This product is virtually painless, with no pre-peel skin preparation and little downtime.  The Perfect Derma™ Peel is the only peel that includes the powerful anti-oxidant Glutathione, which lightens and brightens the skin, slows down the aging process and helps prevent wrinkles.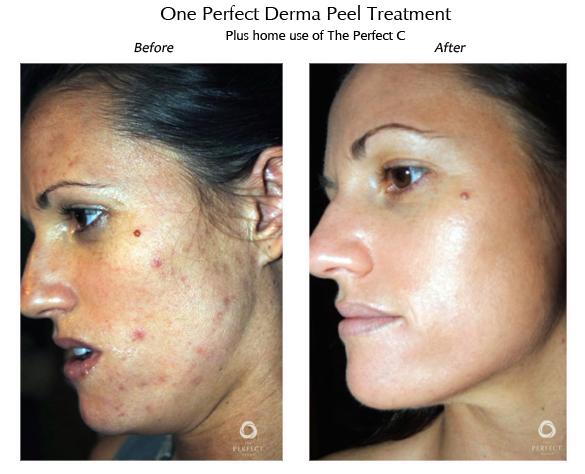 The Enlighten Depigmentation Peel reduces and eliminates acquired skin blemishes for certain types of skin pigmentation that don't respond to more traditional treatments, increasing skin luminosity and equalizing skin tone. This two-step prescription process actually communicates with your cells, bringing discolored pigmentation up to the surface to increase cell turnover, and then goes even deeper to inhibit discolored pigmentation.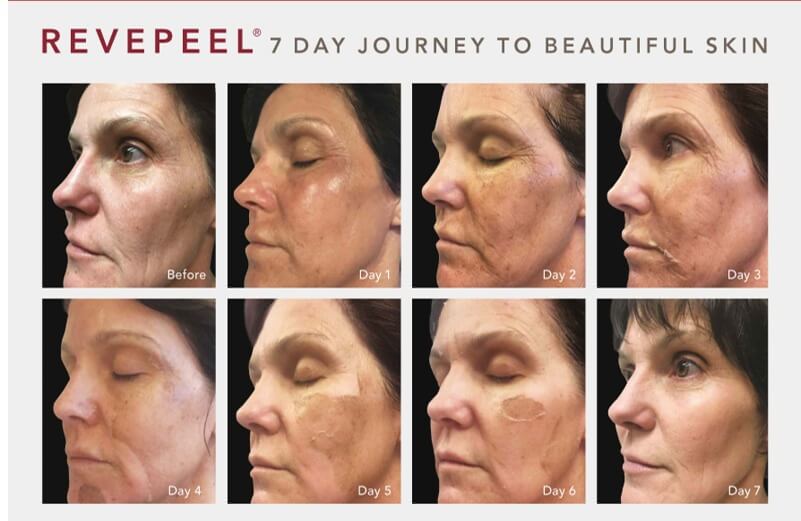 The Cosmelan Depigmentation Peel is a unique, multi-ingredient chemical treatment designed to reduce areas of skin discoloration and hyperpigmentation. Melanin is responsible for creating the skin tone, as well as splotchy areas of darker tissue. The Cosmelan Peel decreases the skin's natural melanin production by inhibiting certain enzymes, providing an even complexion.
A Cosmelan Peel can be used to improve the look of facial skin, the abdomen, legs/hands, and the breast/nipple area. Dull skin, dry areas, dark spots, blemishes, and acne scars can be significantly reduced with the peel. Discoloration due to Melasma (Brown to gray patches over the bridge of the nose, cheeks, chin, and elsewhere on the face and body; often the result of hormonal changes) and Chloasma (similar to Melasma; referred to as the Mask of Pregnancy) can be eliminated with the Cosmelan Peel. In addition, the peel balances the skin's oil production to improve acne.