GreenSky Patient Solutions

The GreenSky Patient Solutions® Program makes it possible for you to receive the healthcare treatments and services you want and need without delay.
The Program offers you flexible financing to meet your needs. The Program offers an easier way to pay for treatments and procedures not covered by insurance, or to cover your deductibles. We have plans that offer convenient payments.
With more than $10 billion in loans, the GreenSky family of Programs offers trusted financing options to give you a simple and more affordable way to pay.
Apply
You can apply online or by phone.
Approved
Credit decisions in seconds. Once approved, you receive your credit agreement and account number.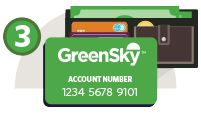 Pay
When you are ready to pay, give your account number to your healthcare provider to process a payment just like you would a credit card payment.