Meet our Team
Hello, I'm Dr. Umbreen Chaudhary and I'm the physician you will be seeing when you come to Rejuvenation MD. I've had my practice since 2004 in North Carolina in both Asheboro and Greensboro. I grew up in small town North Carolina, and returned after completing my residency in New York (mainly due to my dislike for cold weather). My favorite procedure to preform is under eye filler! I love to give my patients natural looking results and am always happy to see my patients progress through their health journey.
Hi everyone! My name is Jasmine and I have been working with Dr. Chaudhary since March of 2018. I grew up here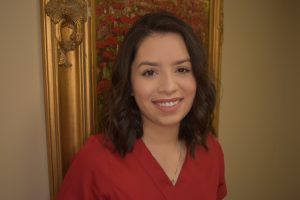 in Asheboro and this lovely small town is where I met my fiance who I can't wait to marry in December 2018! I like to spend my free time watching Grey's Anatomy, fishing, eating good food and cheering on the New England Patriots! Due to my love for makeup and with my wedding coming up soon I have been loving Hydrafacials and I can't help but recommend them to all our patients. Dysport is also one of my favorite treatments. I enjoy meeting new patients as wells as seeing familiar faces and all their beautiful results. I hope to see you here soon!